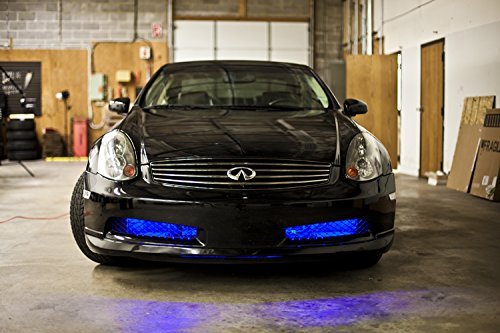 Looking to add a fresh look to your grille? LEDs are the way to do it! By adding bright LED strips behind your grille, you can add a lot to the look of your vehicle. Diode Dynamics has been producing and designing easy-to-install LED kits for nearly a decade, and this kit is no exception. After months of planning, we have designed new LED strips to be used in this kit, which are highly flexible, weatherproof, and long-lasting.
This is the single-color version of our kit, but please be sure to check out the multicolor version as well, which uses our new remote-controlled RGB Multicolor lighting! Included in the kit: – 2 (two) 30-5050 SMD Strips (flexible and waterproof) – Universal Grille Wiring Harness – LED Toggle switch in matching of LED color (Blue switch for Cool White and Warm White) – Power splitter and adapters to easily wire up the strips – 4 (four) zip-ties and 3M outdoor adhesive pads for mounting strips.
Grab some for your car and customize your Infiniti G35 Grille.