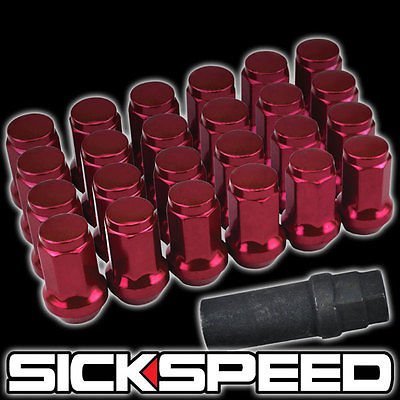 Looking to replace the lug nuts on your Infiniti? How about adding some Red Steel Locking Security Lug Nuts?
Sickspeed – Made from military grade hardened steel, these lugs feature a closed end design and are triple chrome plated for long lasting brilliance. Weighing in at a 33 grams each, you get style and flair while reducing both your unsprung weight and rotational mass. Installation tool included.
NOTE: Listing is for 24 pieces ONLY. Check our OTHER listings for additional quantities.
NOTE: Vehicle list is for REFERENCE ONLY , use the guide above to check fitment with your rims. To avoid damaging your product you MUST use a torque wrench. Under NO circumstances should this be installed with an impact driver.
Get yours today for around $37.95 plus shipping and handling from Amazon